Having lived in the inner western suburbs of Brisbane for nearly 30 years, and also being the son of one of Brisbane's leading Real Estate Agents. Tom was destined for a career in Property. His local knowledge and industry experience gives his clients a distinct advantage.
He is a driven and enthusiastic professional who relishes a challenge. Tom always goes the 'extra mile' for his clients to ensure they receive the highest price for their property even if it takes a little longer than expected. "A quick dollar isn't always a good dollar".
Tom understands the stress and emotions related to buying properties through personal experience, and strives to make people feel comfortable when going through the process themselves.
Tom's point of difference is his warm friendly nature and willingness to take the extra time with people, and to stick it out for the highest price.
"Everything I do I believe in challenging the status quo of what it means to be a real estate agent. The way I challenge the status quo is by actually listening to, and talking with buyers and vendors as if they were a family member, or my closest friend. Not just another transaction.
I believe in knowing the market better than anyone I come into contact with and working harder than all the other agents in my area.
It's not just about getting a quick sale and moving onto the next. It's about building relationships and helping people move into and out of their dream homes.
"I believe that anyone selling their home deserves the absolute highest possible service and price in any market regardless of their circumstances."
Recent Testimonials
"We bought our first house from Gordon Fraser over 15 years ago, and we've used his real estate services repeatedly since then. He has proven time and time again to be an honest, trustworthy and knowledgeable professional without peer; we are active property investors and there is no-one else in the industry that we could recommend with the same degree of utmost confidence. We trust him implicitly with our sales and investments – he tells it like it is, and then goes the extra mile to get the job done, with outstanding results. Gordon's son Tom Fraser is a great asset to the company, and together they work as a brilliant team. We highly recommend them both for all of your real estate needs.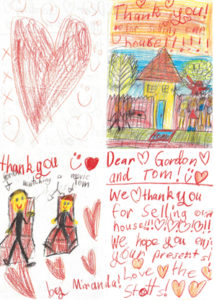 (Andrew and Melanie Stott, Toowong)
"Deciding on who to trust with the sale of our much loved family home of 27 years was one of the toughest decisions we had to make.  We interviewed a lot of the local agents. In the end we decided to work with Tom Fraser from Gordon Fraser Properties because we could tell he was genuine and had our best interests at heart. He also had the experience and skills necessary to get the job done well and we knew buyers would feel comfortable with him.
The other agents we interviewed were from the larger, well known companies. They all said the right things as though it was a well practised presentation. It was all about how many awards they, or their agency, had won. It had nothing to do with me. 
With Tom it was simple with no fuss.  Never at any stage did he pressure me into signing anything or spending money on unnecessary advertising. If I was concerned with something, he addressed it straight away and put my mind at ease. I let him do the stressing for me.
Tom informed me every step of the way and was very patient with me as I was quite nervous about the whole process. Early on in the campaign, we had two contracts fall over, which was really stressful at the time. Within days, Tom had backup offers ready for me to sign. 
Tom was always there when I called and responded quickly to texts and emails. Often he would show buyers through on Sundays, and on a couple of occasions sat down with me late on a Saturday night discussing offers.
My family and I were extremely happy with the end result and the price he achieved. I will not hesitate to recommend Tom Fraser to my family or closest friends.
If you're deciding on who you should use as your agent, please do not hesitate to contact Tom Fraser from Gordon Fraser Properties."
(Leith Cameron- 0429 783 213)
"We found dealing with Tom of Gordon Fraser Properties to be a satisfying experience. He was always quick to respond to queries and gave good advice as well as taking on board our concerns and not negotiable issues. A sale within three days resulted and we are very please with the outcome. I have already recommended his services to another potential client."
(Stuart & Rhonda)
"We interviewed three real estate agents before we chose Tom Fraser to sell our house in Red Hill. Tom provided us with excellent service, he worked very hard for us and we were impressed by his tenacity and his commitment to his job. His manner was professional and he was consistently pleasant and respectful through the entire process. He has excellent communication skills and kept us well informed at every step.  We have absolutely no hesitation in recommending Tom to anyone who is looking for an agent who will have a genuine interest in their property and who will be proactive throughout the whole process."
(O & D Foley)
"I met Tom Fraser when he knocked on our door to see if he could help sell our home, it progressed quickly from that point.  Tom listened to how we wanted the sale process handled and worked hard to achieve a result we were happy with.  Tom's approach was straightforward with no fuss or drama.  Thanks Tom our house sold within one month and it was a good result."
(Christine)
I would like to say thank you to Tom Fraser from a buyer's perspective. From day 1 of open inspection until settlement, he has been very patient with our endless questions and concerned with our needs and requests. I am very impressed that he puts himself on both seller and buyer's shoes to provide fair comments and never pushes for a quick decision. His trustworthy quality is his most important asset, plus his professionalism and being respectful during the long process. It was an absolute pleasure to deal with Tom and thanks again for helping us choosing this fantastic home!
Thanks again for all your help, we are very happy with the new home!
Cheers"
(Dustin)
"Tom worked very hard to sell our Indooroopilly home under challenging conditions, and succeeded with unstinting commitment and good humour.  He combined mass marketing strategies with good old fashioned door knocking, ensuring great coverage. Always impeccably courteous, professional and respectful, he made himself available for regular open house and frequent inspections in-between.  His communications were timely and responsive and this made us feel comfortable that he was "on the ball". 
It was a pleasure dealing with Tom.  Choose him as your agent and I know he will give you his utmost commitment to selling your home"
(K. Brinkley)
"Tom always went over and above when selling our property.  He understands the stress of selling a home and kept in contact with us the entire way.  He made us feel very supported throughout the whole process and deserves to go very far in the industry. We will definitely be telling others about Tom when they are looking to sell home"
(A. Trifett)
Latest Updates